CITIES' Dashboard
Supervisor: Vince Nguyen (CITIES Fellow), Students: Jennifer Zheng & Min Jie Kim
CITIES is developing a new dashboard that would display NYUAD campus data that is valuable for the community (e.g. air quality, physical activity, food waste, etc.). A team of students, led by Vince Nguyen with the support of CITIES faculty and staff, is working on this.
Real-time Air Quality Data Visualization: Raising Awareness and Facilitating Behavior Change among NYU Abu Dhabi Community
Researcher: Vince Nguyen (NYUAD CITIES Post-Graduate Research Fellow)
Originally an Interactive Media Capstone project produced by Vince Nguyen in Spring 2021, this project provides real-time outdoor and indoor air quality PM2.5 data and health suggestions across different campus buildings such as the Campus Center and the Dining Hall. The project is currently supported by CITIES to promote health-conscious and sustainable lifestyles among the NYU Abu Dhabi community. The data collected within this initiative will soon be displayed on the CITIES dashboard (under development), a sustainability-focused platform providing the NYU Abu Dhabi community with info and statistics on air quality, food waste, fitness level, and more.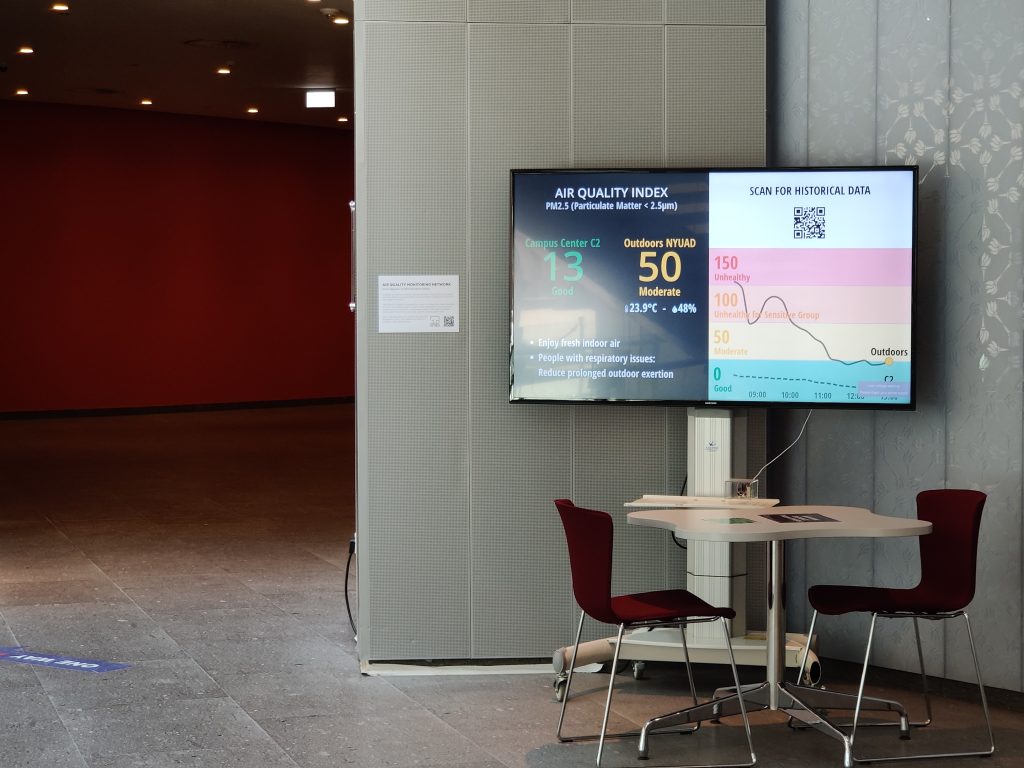 Reimagining the Interior of the CITIES Research Center
The students of the Foundations of Graphic Design class, taught by Prof. Goffredo Puccetti, and Erin Collins – Instructor of Design, are reimagining the interiors of the CITIES Research Center at NYUAD. They presented solutions for the Center's common space to be implemented in Spring 2022. These kinds of interventions are a key element of the learning-by-doing approach constantly applied in the Visual Design courses at NYUAD. Students from previous years have designed award-winning visual identities for NYUAD Centers and initiatives such as the NYUAD Hackathon and the NYUAD Gazelien Record Label, and for prestigious UAE institutions such as the AlSadeem Observatory and the WWF Emirates Nature.