Olya is a consultant at Metyis and social entrepreneur, who is passionate about climate and society and all things circular. 
You are part of the global NYU family and spent some time at NYUAD?
I graduated as a Chemistry major from NYU in 2014, and right after, I received an opportunity to become a Global Academic Fellow at NYUAD ('14-'16).  It was a fantastic experience where I had had a chance to work with students from all over the world while supporting various courses and programs. In my first year, I worked with Prof. Tim Dore on Foundations of Science and later with Prof. Sophia Kalantzakos on Environmental Policy. My most exciting experience was designing academic trips. For one of them, I had a chance to bring students to Kazakhstan – my home country – and explore environmental policy. In another, a group of students travelled through Greece and explored the fundamentals and practices of democracy.  These experiences helped me realize that I would like to pursue a career in tackling environmental challenges by working with diverse stakeholders and become a translator between science, business, and policy.
What have you been up to since leaving NYUAD? 
Since leaving the NYU family, I completed the 1+1 Program at the University of Oxford with MSc in Environmental Change and Management and MBA Said Business School. As a student, I co-founded the Circular Economy Lab at the Skoll Center for Social Entrepreneurship, which serves to bridge academics and professionals in the impact space. After graduation, I moved to Amsterdam where I worked with Kate Raworth to implement Doughnut Economics as part of the city's Circular Economy Policy. Today, I work as a Strategy Consultant at Metyis, and I serve on the Climate Action Steering Committee for the Global Shapers Community of the World Economic Forum, where I lead on the Scale360 initiative.
What is the Doughnut?
The Doughnut offers a vision of what it means for humanity to thrive in the 21st century – and Doughnut Economics explores the mindset and ways of thinking needed to get us there.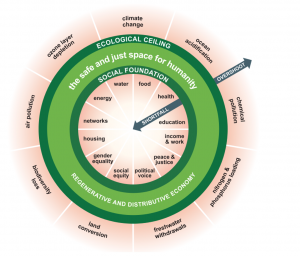 The Doughnut of social and planetary boundaries envisions a world in which people and planet can thrive in balance – in other words, it offers a compass for guiding 21st-century prosperity. The Doughnut's social foundation, which is derived from the UN Sustainable Development Goals' social priorities, sets out the minimum standard of living to which every human being has a claim. The Doughnut's ecological ceiling comprises nine planetary boundaries, drawn up by Earth-system scientists in order to identify Earth's critical life-supporting systems and the global limits of pressure that they can endure. Between the social foundation and the ecological ceiling lies a doughnut-shaped space(green space) in which it is possible to meet the needs of all people within the means of the living planet – an ecologically safe and socially just space in which humanity can thrive.
Learn more here: About Doughnut Economics | DEAL
My Doughnut journey started with developing a game for school children in Kazakhstan as part of my Master's thesis. I thought it was the perfect sweet spot to bridge the conceptual gap between social development and climate change, while identifying concrete gaps and opportunities for local action. Since then, I have continued to bring the Doughnut into all of my work.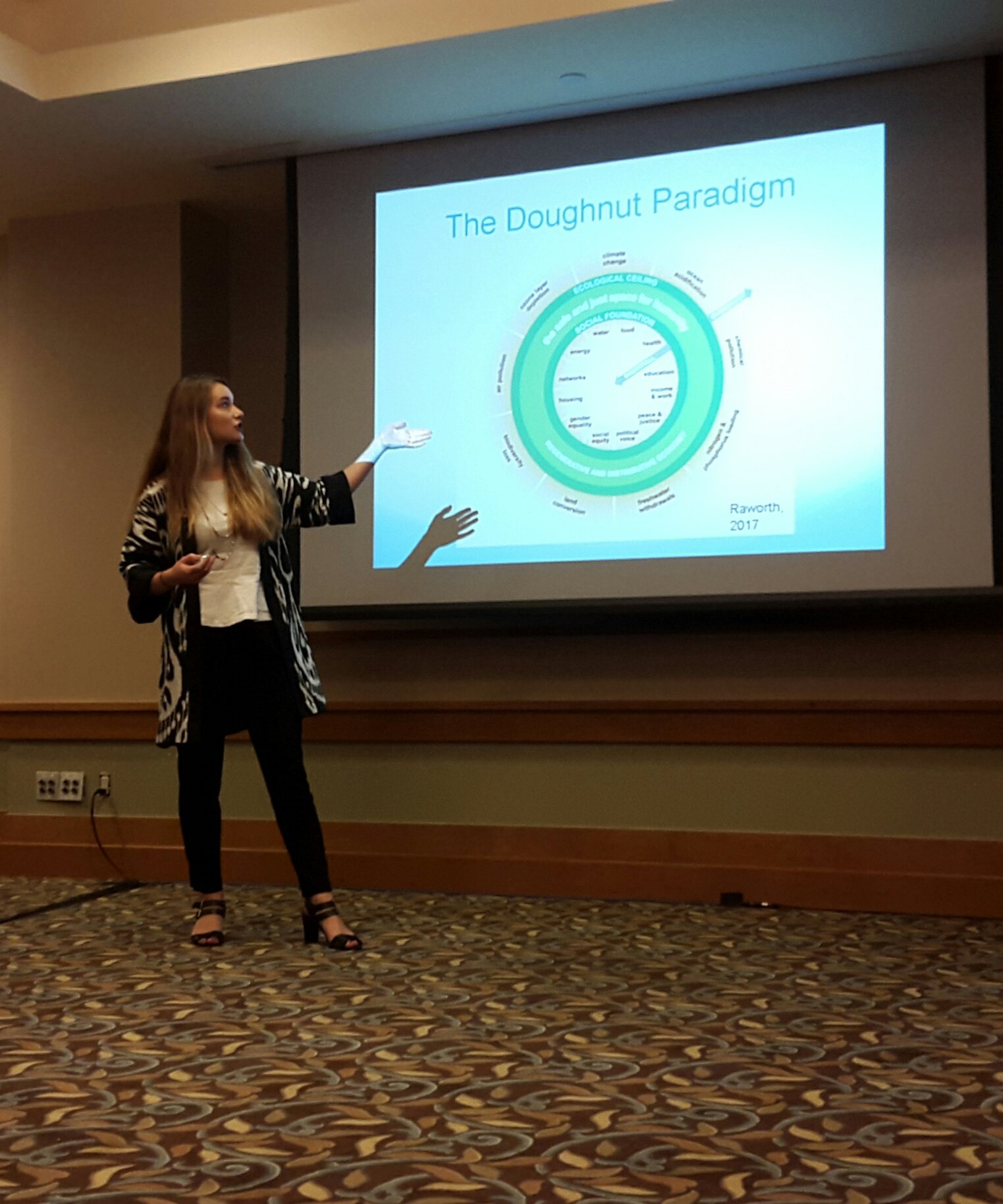 What is happening with the Doughnut today?
In 2019, the concept was adopted by  C40 Climate Network of Cities and together with Kate Roworth, DEAL, Biomimicry 3.8 and Circle Economy we created a methodology and a launched a strategic tool for cities to become Thriving Cities. The program was piloted with Amsterdam (my new home), Philadelphia, and Portland and more cities are on the way!  I am most proud to live in a city that has embraced and is actively Doughnut-proofing the future of all residents.
Amsterdam to embrace 'doughnut' model to mend post-coronavirus economy | Netherlands | The Guardian
Could Amsterdam's New Economic Theory Replace Capitalism? | Time
DEAL open sourced the methodology, so cities do not have to wait for us, but can get started on their own – and they are doing just that! Doughnut communicates have been popping up all around the world, from indigenous groups in Australia, to new development communities in Europe, to online meet ups of Doughnut enthusiasts – all adopting the Doughnut in their own way.
What if I would like to join the community?
You can join the community here: DEAL (doughnuteconomics.org), where Doughnut resources are  published, shared, and innovated  for teachers, students, governments, businesses and many more all over the world.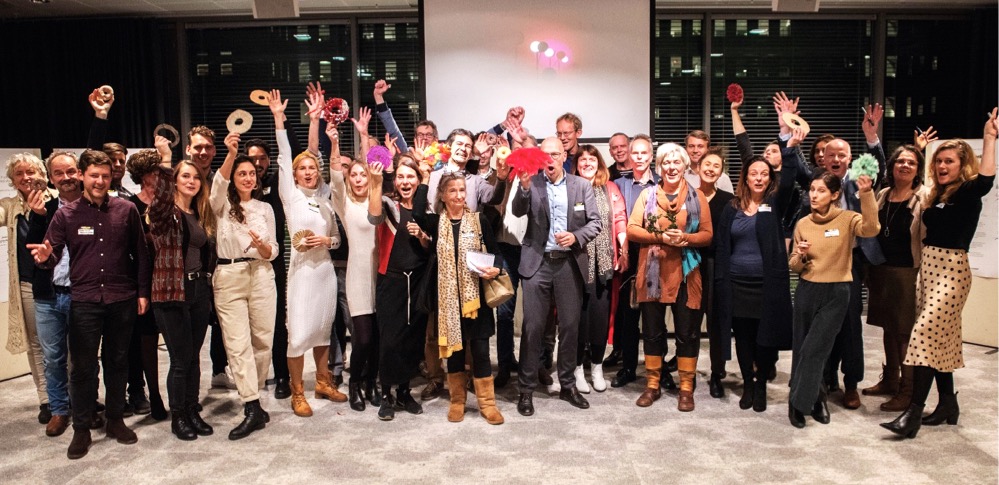 The Amsterdam Donut Coalition, founding meeting, December 2019