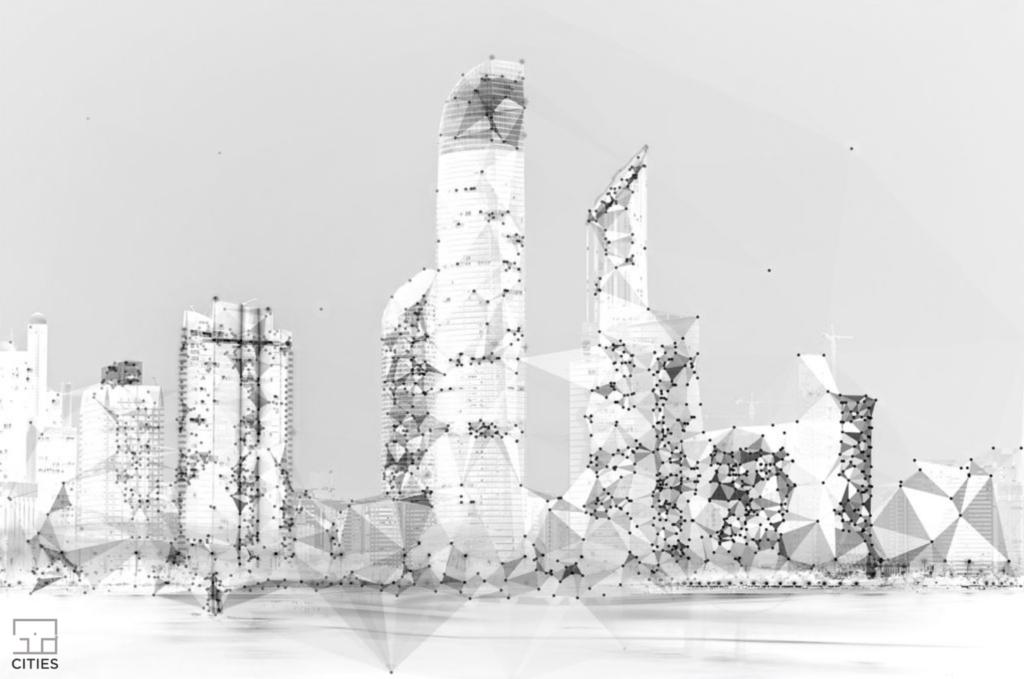 CITIES Research
The Center for Interacting Urban Networks (CITIES) at New York University Abu Dhabi (NYUAD) is an interdisciplinary research center dedicated to advance urban science and promote cutting-edge research that is translated into practical, real-world solutions for the benefit of society. Our ultimate goal is to foster sustainable, resilient, and equitable cities with a particular emphasis on Abu Dhabi and the UAE.
This newsletter offers an overview of CITIES' ongoing research efforts and initiatives for a more sustainable approach to the way we live our cities and the built environment.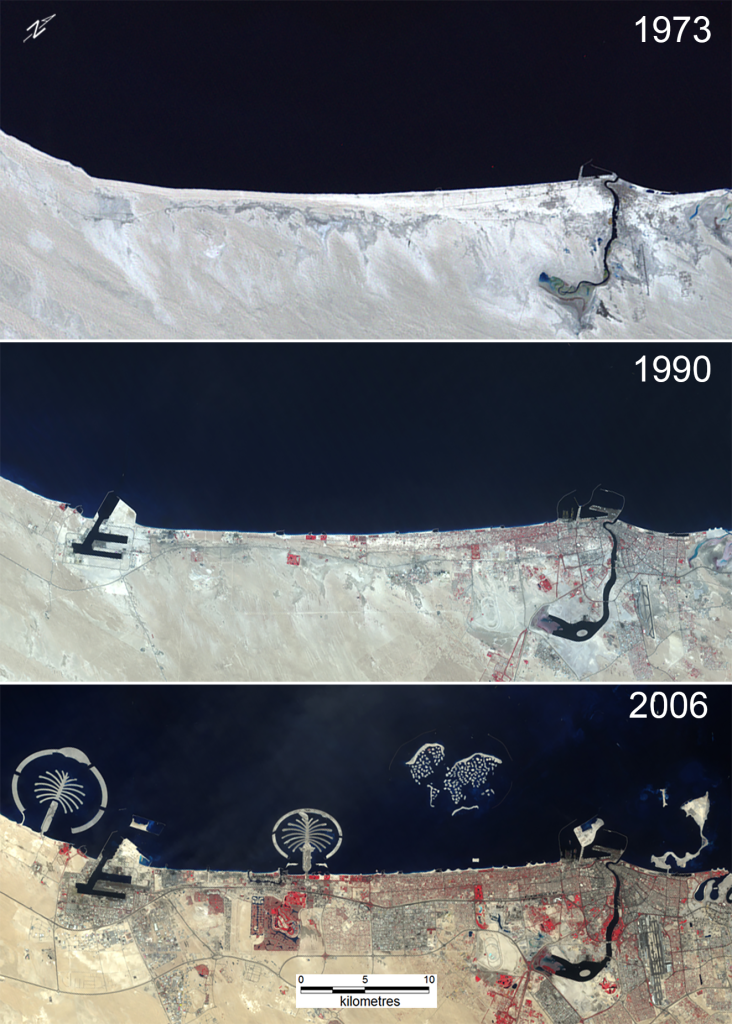 Towards Sustainable Coastal Development in the Arabian Gulf
John Burt, Associate Professor of Biology, CITIES Investigator
The coastal zone of the Arabian Gulf has experienced rapid and widespread modification since the 1970s 'oil boom,' as economic development and population growth led to dramatic urbanization across regional shores. The expansion of cities largely occurred along the coastal fringe, and this necessitated additional development of ports, power, desalination, and related maritime industrial facilities required to support burgeoning populations. Channel dredging, infilling, and reclamation have heavily modified near-shore areas across the Gulf, and breakwaters, quay walls, jetties, and related infrastructure have largely replaced natural shorelines around cities across the region.
While the growth of coastal cities and their supporting industries signifies important economic growth and diversification of Gulf nations in recent decades, the pace of environmental management and regulation has often lagged the rate of development. Predictably, this has led to widespread degradation and losses of important coastal ecosystems that have historically lined the shorelines of the Gulf. For example, between 1996 and 2019, living coral coverage has declined by 40% in the southern Gulf, largely as a result of coastal development and climate pressure. Direct burial through coastal reclamation and infilling, as well as indirect losses due to sediment plumes from such activities, have resulted in substantial loss of nearshore coral reefs, which have functionally been extirpated across the whole coastline of Bahrain, Qatar, and Dubai, for example. Such ecological impacts have knock-on impacts on society, as economic sectors such as fisheries and ecotourism are largely contingent on the integrity of such ecosystems.
Where can policy-makers focus their attention to stem the decline of these important natural assets and ensure their persistence for the next generation of citizenry? While the UAE has had environmental impact assessment (EIA) legislation in place since 1998, there is still room for the integration of best practices that have been adopted elsewhere in the world. For example, the local EIA framework is still largely single-project-focused rather than cumulative. The inclusion of cumulative impacts from multiple ongoing or proposed projects occurring in the same area would allow for more robust environmental stewardship. Additionally, the inclusion of social impacts in addition to environmental parameters would permit better engagement of the voices of those stakeholders whose incomes or well-being are potentially negatively affected by proposed projects. There is also an opportunity for better integration of biotic information alongside economic needs in marine and coastal spatial planning through the adoption of ecosystem-based management practices. In the end, we all want to see the continued economic success of the Emirates and the surrounding nations, but we should put in place frameworks that ensure that development occurs in ways that sustain the integrity of our important natural assets.
For additional information see: Burt, J. (2014) The environmental costs of coastal urbanization in the Arabian Gulf. City: analysis of urban trends, culture, theory, policy, action, 18:760-770 https://doi.org/10.1080/13604813.2014.962889.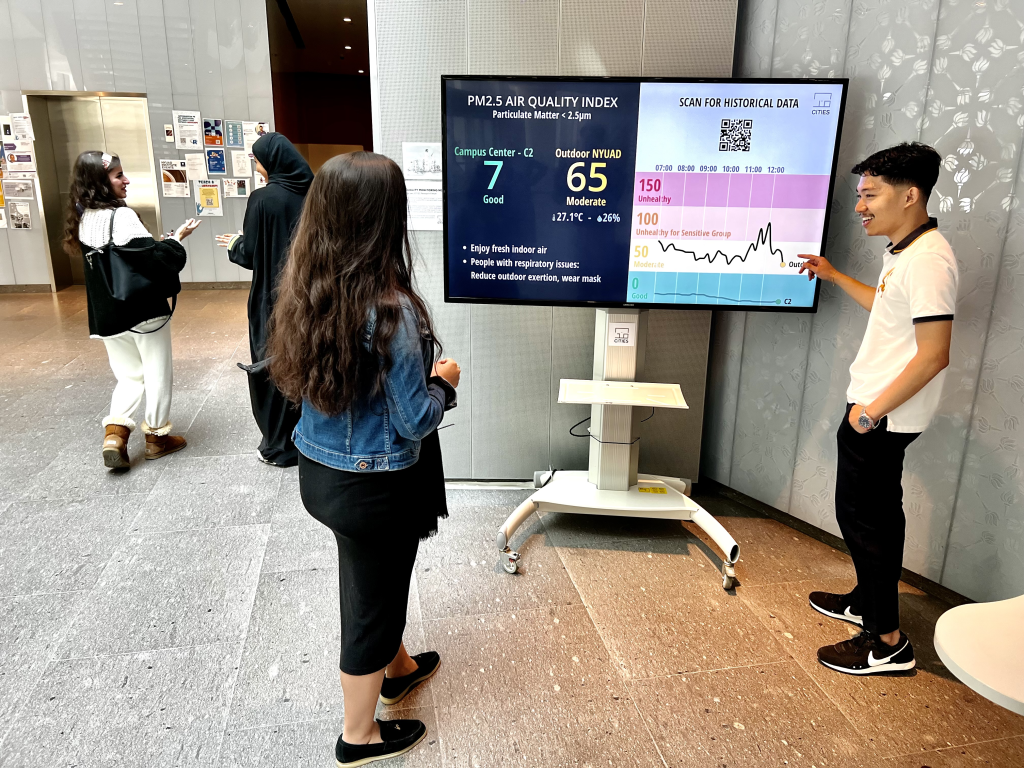 CITIESair – Creating Sustainable Living Through Air Quality Awareness
Vince Nguyen, CITIES Research Assistant, & Dr. Federico Bernardini, CITIES Assistant Director
Air pollution is among the 4th leading factors for premature death, claiming over 6 million lives worldwide in 2019. Microscopic particulate matter smaller than 2.5 micrometers (PM2.5) can penetrate and lodge into the lungs and internal organs, causing respiratory and cardiovascular diseases. Several countries worldwide experience prolonged periods of PM2.5 concentrations for different reasons. The UAE, in particular, is susceptible to periods of high PM2.5 concentrations due to its exposed desert geographical topography, anthropogenic emissions, and industrial activities.
CITIESair, an evolving network of air quality sensors in Abu Dhabi, was established in response to the UAE's efforts to reduce air pollution's mortality rate from 64.8 in 2017 to 60.2 per 100,000 people by 2030 – UAE National Air Quality Strategy (2021-2031). CITIESair traces its roots back to a student's Capstone project in 2021, where PM2.5 data were measured and published for the first time to the NYU Abu Dhabi community with data visualization screens strategically placed in the campus compound. Recognizing the potential of this project and to further raise awareness and encourage sustainable behaviors within and beyond the university community, CITIES decided to scale it up by equipping the network with higher-grade air quality sensors, transferring hardware and data visualization technologies to other schools in Abu Dhabi, and publishing real-time measurements on the NYUAD Student Portal and the Intranet, and on IQAir – the largest platform for air quality data.
From an obscure topic, air quality is becoming an important consideration for many NYUAD campus residents when incorporating their daily routines, such as exercising or bringing the kids outdoors. CITIESair has captured the attention of the larger community and inspired Capstone students and researchers to experiment with smart air quality notifications, the result of which will inform the university's policies on wellness and sustainability. In line with the citizen scientist movement, CITIESair's dataset is made publicly available for interested parties to analyze the data or develop new policies. Overall, CITIESair aims to create an omnichannel data repository that is convenient to access, provides persuasive data visualization, and encourages healthier, more sustainable ways of living in Abu Dhabi.
Left Video: Anthropogenic noise and biophony sounds unfiltered; Right Video: Anthropogenic noise and biophony sounds filtered with HPF at 2KHz and LPF at 5KHz
An Eco-Acoustic Survey of the Impacts of Anthropogenic Noise Pollution on the Gulf's Avian Populations
Matteo Marciano, Assistant Professor of Practice of Music Technology, & Aaron Marcus-Willers, CITIES Fellow
Eco-acoustics, which is often called acoustic ecology or soundscape ecology, is a relatively new discipline that has only become popular in the past few decades. This approach to ecology stemmed from the field of music in the late 20th century. In the past decade, acoustic surveys have become increasingly widespread as technology becomes more accessible. Some recent studies have investigated the impacts of traffic noise on habitat degradation and population distribution, energy sector noise on the density of bird populations, and even the effects of general noise pollution on biological fitness levels in birds, finding that it decreased hatching rates, population abundance, and caused difficulty in feeding and gaining weight. While these studies have shown the importance of the field of acoustic ecology in understanding the impacts of sonic stressors in affected ecosystems, a meta-analysis conducted in recent studies this year found that the vast majority of these works have occurred in the United States, Europe, and Australia, with scattered studies throughout Central and South America and Subsaharan Africa. However, only some studies of this kind were conducted in the Middle East, North Africa, and South Asia. The UAE, in particular, is home to the largest spatial coverage of mangroves in the gulf region, according to a 2018 study. By recording in multiple locations throughout the mangrove parks in Abu Dhabi, we aim to assess the effects of the proximity of anthropogenic noise pollution on the mangrove ecosystem, especially focusing on the vocal behaviors of bird species throughout the upcoming migration season. The results of this study can help policymakers implement a targeted solution to protect this precious and fragile ecosystem.
Our team conducted eco-acoustic surveys to assess the impact of noise pollution on Eastern Mangroves and Jubail Island, two unique ecosystems, home to diverse avian populations. These surveys involve using specialized equipment to measure and analyze the noise levels in the environment. Recordings were analyzed across different machine learning softwares, in order to visually identify vocalizations through spectrograms that show the level of specific frequencies over time. The results of this analysis have revealed, that the levels of noise pollution on Jubail Island are significantly higher than what is considered safe for avian populations and that the avian populations on the island are being impacted by noise pollution. The impact of noise pollution on birds is well documented and has been shown to alter their behavior and population dynamics. For example, birds may change the timing of their breeding or migration patterns, which can significantly impact their survival and reproductive success. In addition, noise pollution can cause birds to abandon their nests, reducing their reproductive success and leading to population declines. To mitigate these impacts, it is essential to implement measures to reduce the levels of noise pollution on the island. This can include reducing loud machinery and vehicles and implementing noise barriers around industrial and construction sites.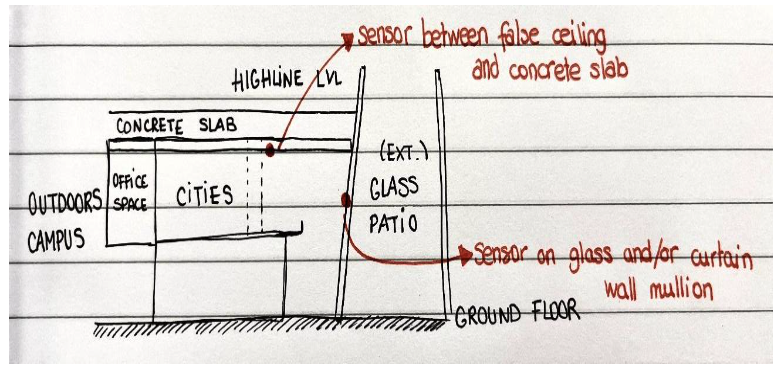 Thermal Characterization of a Singular Space in an Educational Building
Borja García de Soto, Assistant Professor of Civil & Urban Engineering, CCS & CITIES Investigator & Amanda Ramón, Visiting PhD student from Universidad Castilla-La Mancha (Spain)
The overarching objective of this project is to assess the benefits of a building's Digital Twin (DT) and map out the use cases of the developed model. To achieve this goal, a prototype DT is being developed in collaboration between Accuracy and CITIES at NYUAD. The prototype will be developed and tested on the NYUAD campus, specifically using the space where CITIES is located.
The experiment is scheduled to last two weeks, and it aims to comprehensively monitor the interior environmental conditions of a double-height space, with circulation paths close to a semi-exterior and glass and parts of office-type space on the second floor. Six sensors that obtain temperature and humidity have been placed throughout this space to determine the airflow and temperature changes throughout the day between these spaces. In addition, we will obtain thermal photographs of both the interior glazed facade of the patio and the exterior space facing the floor immediately above the space on the second level (level +2, & "Highline"). This will be done 3 times a day for the entire experiment duration. In addition, one or several thermal point clouds will be taken using LIDAR-type laser scanners to generate an architectural model of the space, in which this thermal data can later be added, and a digital twin model generated.
We aim to assess the use case of digital technologies, such as DTs, in the built environment. To this extent, the project will focus on the benefits of DTs from a social and environmental aspect. On a macro level, the project will assess how the developed prototype could be scaled to a building and city level. In particular, the NYUAD campus DT, when operational at the campus scale, can inform residents, users, and operators, as well as help optimize the comfort, use, and management of all campus assets. The project will also look into the strengths, weaknesses, opportunities, and threats of using DTs at different levels while exploiting the methods for this development.
CITIES Seminar Series
This forum hosts speakers from different sectors, such as academics, government decision-makers, and private-sector entrepreneurs. It offers the opportunity to the large community (NYUAD and beyond) to stay informed about the latest research in urban science produced by CITIES and its network of global collaborators, as well as the application of this research to society. It also offers the opportunity to learn from and interact with subject matter experts and decision-makers from the government and private sectors.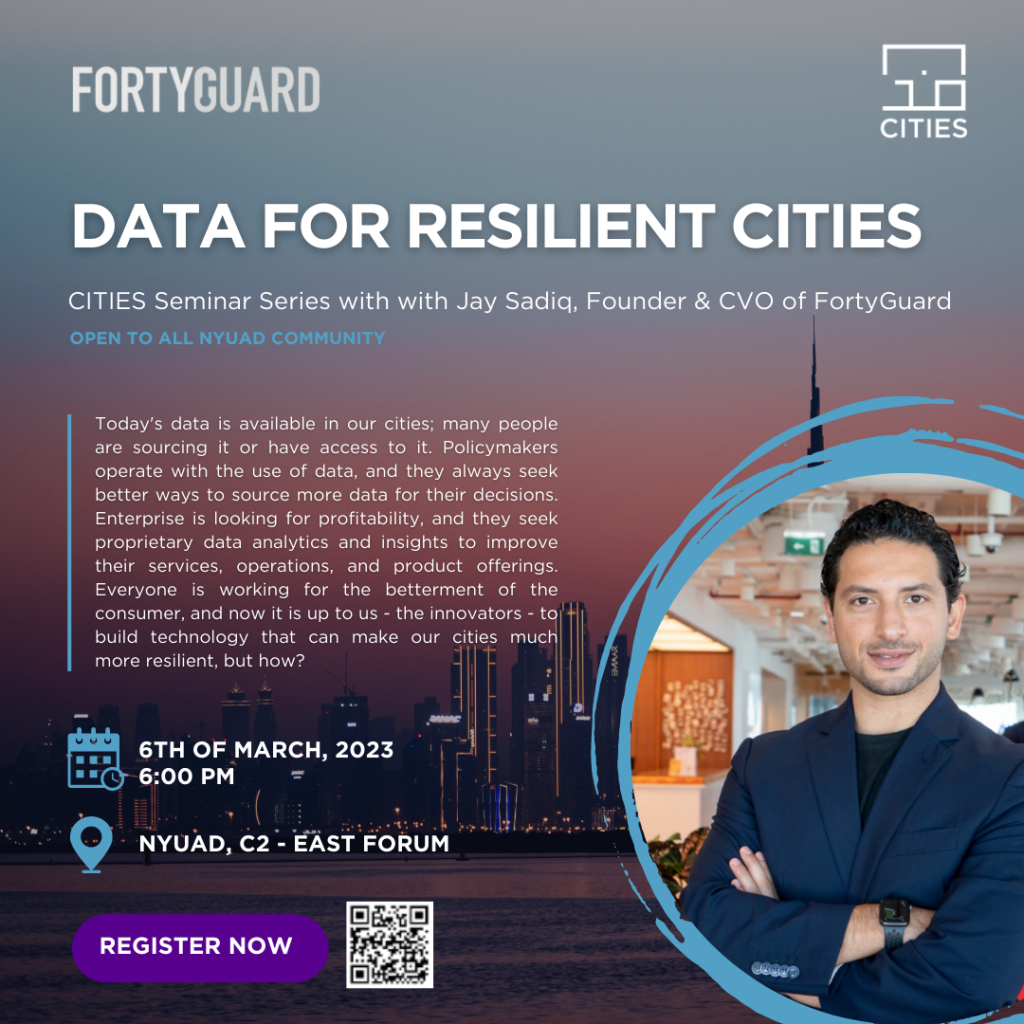 CITIES Research Outputs
You can access the whole list of CITIES publications and other research outputs using this link.
Stay tuned for the Issue #9 of our newsletter that will come out in June, 2023.