Winner: Hiat  حياة

Presentation Order: 7

Description: Connecting skilled refugees and the local community in an easy-to-use gig-economy platform.

Mentor: Islam El-Ashi (Software Engineer Twitter)

Students: Camilo Luciano (Universidad de Buenos Aires, Argenitina), Amr Aljundi (American University of Sharjah, UAE) Vladimir Ilievski (Ecole Polytechnique Federale de Lausanne, Switzerland), Sonia Xu (Hacking Medicine, MIT, USA), Radwa Hamed (The American University in Cairo, Egypt) and Munira Alali (Khalifa University, UAE)
---
2nd Place: 3ndi Headache (I Have a Headache)
Presentation Order: 9

Description: Automating triage nurses.
Mentors: Razan Qraini (WebTeb, Senior Android Developer, Palestine), Varun Arora (CEO, OpenCurriculum, USA) and Lingliang Zhang (NYUAD, UK)
Students: Daniel Watson (NYUAD, UAE), Khalid Abul Borghol (AUS, UAE), Hayat Al Hasan (NYUAD, UAE), Eithar Al Fatih (University of Khartoum, Sudan), Moiri Gamboni  (NYUAD, Australia), Chenhao Xu (NYUAD, UAE) and Munachiso Nwadike (NYUAD, Nigeria)
---
3rd Place: Tarakeeb  تراكيب
Presentation Order: 4
Description: An automated grammar checker to teach Arabic.

Mentors: Anas Shahrour (Hamza Founder, UAE), Balsam Alkouz (University of Sharjah Research Assistant, UAE), David Warr (Language Garden Ltd, Founder, UK), Hanan Hadad (Lynx Vision Graphic Designer, UAE) and Saeed Motamed (Networkful CTO, UAE)
Students: Lama Ahmad (NYUAD, UAE), Fahmi Alnajjar (Princess Sumaya University for Technology, Jordan), Maha Amjad (NUCES FAST, Pakistan), Skye Im (NYU Shanghai, China) and Shorook Saleh (University of Sharjah, UAE)
---
3rd Place: AnNahr  النهر  (The Stream)

Presentation Order: 10

Description: An interactive hardware/software solution that addresses the issue of water wastage during the Wudhu (ablution) at the Masjid (mosques) by providing feedback to the user in an attempt to raise awareness and change their behavior, encouraging positive water saving.
Mentors: Fahim Dalvi (Qatar Computing Research Institute), Sama Kanbour (General Electric, Qatar) and Joyce Zhang (Boston Consulting Group, US)
Students:  Zakaria Belkham (M'Hamed Bouguerra University of Boumerdés Algeria), Abdur Rahman Hijazi (Birla Institute of Technology UAE), Emmad Arif (Yale University, US), Elissa Mkanna (American University of Beirut, Lebanon), Driss El Ouiqary (National School of Applied Sciences of Tangier, Morocco),  Abdelrazaq Al-Sharif (Innovation Engineer StartAD, UAE) and Seyed Mohammad Ahlesaadat (NYUAD, UAE)
Audience Winner: Teslam  تسلم

Presentation Order: 8
Description: Service to visualize actionable data in the Arab world related to NCDs (specifically obesity & diabetes) through big data & machine learning, to share with government and business entities, and to educate the targeted subjects of these diseases through a conversational intelligent chat bot.
Mentors: Farah Shamout (University of Oxford, PhD Student, UK), Harini Kannan (Google, Research Software Engineer, US) and Khalid Machchate (K&W Technologies International, CEO, Morocco)
Students: Athra Al Khatri (UAE University, UAE), Shahan Ali Memon (Carnegie Mellon University, Pakistan), Leanne Dsouza (Middlesex University Dubai, UAE), Khalid AlAwar (Khalifa University, UAE), Ibrahim Soltan (Carnegie Mellon University, Qatar) and Daria Zăhăleanu (NYUAD, UAE)
---
Tabboush  طبوش

Presentation Order: 6

Description: Tabboush is the name of a virtual pet companion to assist autistic children coping with every day tasks.
Mentors: Bassem Dghaidi (SE Factory, Technical Director, Lebanon), Muneeza Patel (MIT, McKinsey, UAE) and Dani Arnaout (CTO at Saily, Lebanon)
Students:  Randa ElBehery (Cairo University, Egypt), Hera Arif (Abu Dhabi University, UAE) Anas Einea (University of Sharjah, UAE), Nouf Alsaedi (UAE University, UAE), Alaa Maarouf (Lebanese American University, Lebanon) and Noura Ismail Hussain (Khalifa University, UAE)
Areni  أرني  (Show Me)

Presentation Order: 1
Description: Connecting resettled youth refugees with local volunteer teachers
Mentors: Samr Samir Ali (Teaching and Research Assistant, Abu Dhabi University, UAE), Erin Hoffman (PhD, University of Washington, USA) and Mike Clarke (Director, HiL, Lebanon)

Students: Mariam Garba (University Of Ilorin, Nigeria), Zach Sorenson (Stanford University, USA), Shaikha Aldoukhi (Khalifa University, UAE) and Sana Khiari (INSAT, Tunisia)
---
Transparent مكشوف

Prensentation Order: 2
Description: A platform to encourage people to donate more confidently by improving the financial integrity of charities, NGOs and other governmental organizations through the use of block-chain's innately transparent technology, giving donors the ability to track the effects of their donations.
Mentors: Stephen Lang (Cornell Tech, UX Designer, USA) and Ken Leland (VYDIA, CTO, USA)
Students: Ahmad Ilaiwi (Najah Palestine), Amaan Kulshrestha (Birla Institute of Technology, India), Anas Aloweiwi (University of Jordan), Manaf Alanaze (King Saud University, Saudi Arabia), Param Singh (National Institute of Technology Hamirpur, India) and Azzabi Najwa (University Hassan 1st, Morocco)
---
Musaeada  مساعدة

  (Helping)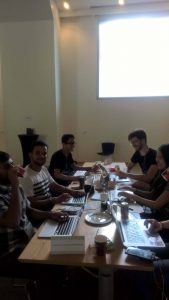 Presentation Order: 3
Description: SMS-based personal crisis broadcaster
Mentor: Aidan Feldman (Engineer at 18F)
Students:  Shirley Mao (University of Waterloo, Canada) Rashiq Zahid (Technical University Berlin, Germany), Samridha Shrestha (NYUAD, UAE) Jaisal Friedman, (NYUAD, UAE), Naomi Pentrel (University of Oxford, UK) and Kunal Malhotra (BITS Pilani, Dubai Campus)

---
---
Feel Better  اشعر بتحسن
Presentation Order: 5
Description: An Arabic-speaking virtual assistant that engages with the user and uses machine learning to assess their mental health and happiness levels.
Mentors: Baris Yuksel (Former Google Engineer, Turkey), Tiffany Tong (Project Coordinator NYUAD, UAE) and Fabricio Pontes Harsich (Google, Argentina)
Students: Marisa Chow (Princeton University, USA), Walid Abismail (Ecole Nationale Supérieure d'informatique, ESI ex INI, Algeria), Muhammad Owais (University of Sharjah, UAE), Brook Hopkins (NYUAD, UAE) and Einea Omar (University of Sharjah, UAE)
---