Hackathon 2013 – Teams and Ideas
1st Place Winner of the 2013 Hackathon: Take Flight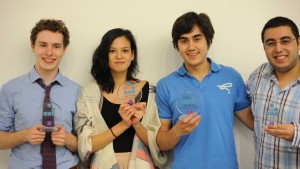 Description: "Take Flight" is an online platform for cross-language video mentoring.
Students: Seth Thompson (Yale University, US), Alex Qin (NYU New York, US), Geoffrey Litt (Yale University, US), and Omar Omran (Lebanese American University, Lebanon)
Mentors: Ramsey Nasser (Fellow, Eyebeam Art+Technology Center), and Max Stoller (Developer, Lerer Ventures).
---
2nd Place Winner: Safe Journey
Description: A mobile app to track a vehicle route from source to destination. It sends SMSs to a designated contact to keep track of the passenger route during the journey on the vehicle. It is aimed to maintain security and follow-up on passengers, especially ladies.
Students: Amanda Coston (Princeton University, USA), Omar Abdel Galeel (Khalifa University of Science (Sharjah Campus), UAE), Mostafa Hammad (Khalifa University of Science (Sharjah Campus), UAE), Abdulla Zoubir Ourad (Khalifa University of Science (Sharjah Campus), UAE), and Abdul Rahman S. Mohamed (Ain Shams University, Egypt)
Mentors: Noha Seada (Assistant Lecturer, Ain Shams University, and Technical Team Leader, Healthy-IT, Free Zone, Egypt)
---
3rd Place Winner, Tie: Laha (For Her); Landmarkr
Laha (For Her)
Description: A social platform for Arab women with chronic diseases to share experiences.
Students: Tahar Zanouda (Quinnipiac University, Algeria), Daniel Gur (Kent State University, USA), Kartik Mandaville (Carnegie Mellon University, USA), Aysha Siddique (University of Michigan, USA), and Caroline Wong (University of Southern Denmark, Denmark).
Mentors: Michael Paik (Ph.D. Candidate, New York University, USA)
---
Tradmarkr
Description: A website providing landmark cues for navigation.
Students: Oleg Grishin (NYUAD, UAE), Moiri Gamboni (NYUAD, UAE), Morgante Pell (NYUAD, UAE), and Dmytro Krasnoshtan (Masdar Institute of Science and Technology, UAE)
Mentors: Rawan Alharbi (Teaching Assistance, King Saud University, Saudi Arabia), and Susannah Raub (Software Engineer, Google, USA)
---
Alert2Sign
Description: A public announcement service that translates speech and text announcements into sign language for the deaf and hearing impaired.
Students: Hassen Ben Salem, Chadi Hammed, Andrew Hitti, Mahmoud Darawsheh, Ahmed Nasser Mohamed Rashad
Mentor(s): Jason Jho, Raouf Amor, Mohammad El-Ramly
---
al-Multaqa
Description: A website which aggregates events from various universities in Abu Dhabi allowing students to discover and attend gatherings hosted by other campuses.
Students: Lingliang Zhang, Jessica Mong, Anoud Mahmoud Abdalla Salim Thoban, Sara Al Hammadi, Sharmina Haque Naeema Mohammad Masudul Haque, Alice Tessen
Mentor(s): Neha Narula, Ph.D Candidate, MIT;
---
Cardrive.me
Description: A mobile application for carpooling in the Arab world.
Students: Rafael Harutyunyan, Yassine Karmouche, Guilherme Santos Galvao Baptista, Amine Bouhaji, M'hammed Oulaidi
Mentor(s): Ramy Elta, Assistant Professor of Software Engineering, Arab Academy for Science and Technology; D.M.Ruwan C.B.Dissanayaka, CEO, Extrogene Private Limite
---
Cenna
Description:
Mobile Application to fight obesity and promote a healthy lifestyle.
Students: Hassan Bello, Anwar Jaber, Omar Bougamza, Murtaza Waheed
Mentor(s): Eiman Kanjo
, Assoiciate Professor
King Saud University and Cambridge Moile Sensing LTD
---
code2gether

Description:
Simple collaborative coding site.
Students: Fahim Imaduddin Dalvi, Syed Ali Hashim Moosavi, Afnan Fahim
Mentor(s): Sean Herron,
Technology Strategist,
NASA; Thierry Sans
, Assistant Teaching Professor
, Carnegie Mellon University Qatar;
---
Marah
Description:
A game that encourages children between the age of 3-6 to learn digits, the alphabet, shapes, and mathematics. Quizzes are presented between levels, rewarding extra shields, and when the player is in danger of losing, providing a second chance to continue.
Students: Alaa Afifi Kamal, Gautam Kovoor, Hassan Abdelsabour Mousa, Mahmoud Ghazi Shtayyat, Walid Laribi
Mentor(s): Mousa Al-Akhras
Assistant, Professor,
Jordan University
---
Noor 3ilm
Description:
Noor 3ilm is a crowdsourcing platform to provide collaborative online education to the Arab world.
Students: Islam El-Ashi, Sana Bougueroua, Xanda Schofield, Walid Ould Baba Ali, Mohamed Said Karim Benmerar, Mohamed Kamal Kamaly
Mentor(s): Amir Zeid,
Associate Professor of Computer Science
, American University of Kuwait; Bouchaib Falah,
Assistant Professor of Software Engineering
, Al Akhawayn University
---
notifyME
Description: A communication service between government sectors and every resident of a country. It can also be implemented for any other organization and its respective audiences.
Students: Nabeel Kassim, Peter Toth, Abhijai Garg
Mentor(s): Jason Jho, Senior Software Engineer, Cambridge Semantics; Sean Herron, Technology Strategist, NASA; Arnaud Sahuguet, Product Manager, Google.
---
NsynK
Description: To battle the digital divide in the Arab world by facilitating the distribution and transfer of digital information over long distances, NsynK uses mobile phones as data nodes which transfer and sync database records and data when a wifi network doesn't exist.
Students: Hasan Alyousef Sonia Cisneros, Dima Hijazi, Ghadeer Haddad, Rami Hammoud
Mentor(s): Abdel-Karim Al-Tamimi, Assistant Professor, Yarmouk University; Mohannad Zalloom, Software Project Manager, Souktel Inc.
---
Pickment
Description: A mobile augmented reality app that translates the color hues that people suffering from color blindness cannot see properly to alternative ones they can easily perceive.
Students: Anthony Spalvieri-Kruse, Katy Blumer, Seung Man Oh, Akram Dweikat, Shahd Alkahtani
Mentor(s): Hussein Al Osman, PhD Candidate, University of Ottawa
---
Social Museum
Description: A mobile app creating an augmented museum visit, providing a virtual tour guide that will make museum visits more interesting and encourage other people to visit the museums.
Students Saleh Ahmed, Nourhan Elfaramawy, Hind Anouar,
Mentor(s): Faical Azo, Associate Professor & Researcher, ESI, Ecole Superieure d'Informatique; David Hutchful, Senior Technical Program Manager, Grameen Foundation
---
The Karama Project
Description: A site that allows crowdsourcing funding, labour, and everything else for a project.
Students: Antoine Grondin, Anas Boubas, Kalthoom Alawar, Amna Al Dhaheri
Mentor(s): Mohamed Mansour, Software Engineer, Microsoft